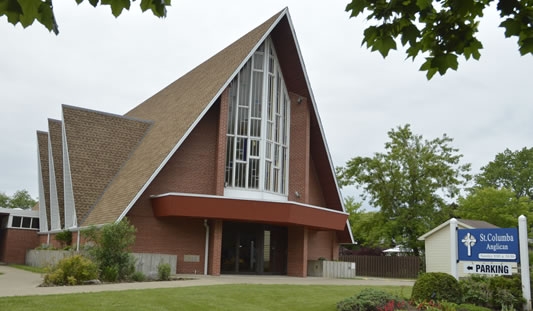 St. Columba
New to the Anglican Church? Have questions about our beliefs and practices? Visit www.niagaraanglican.ca/being-anglican for answers.
Contact the Church Office if you wish to speak to someone further or visit us on a Sunday morning and observe!
Our Church is contemporary in style. There are no stairs as all Church facilities are on ground level.
Our halls are used weekly by numerous groups in our community, including Guides, Scouts, Dancefit, Zumba, T.O.P.S., A.A. groups, etc. and the Parkinson's Society meets here, the fourth Wednesday of the month from September to June (except December).
For pictures and information on all that's happening at St. Columba, please check out our Facebook page using the link below!
www.facebook.com/stcolumbastcatharines
WORSHIP WITH US ON:
Sundays at 8 & 10:30 a.m. Church School available at the 10:30 service - all children are welcome!

Dine with the 8 am parishioners at a local restaurant for breakfast & fellowship, following the service.
Following the 10:30 service, the Sunday Morning Kitchen volunteers serve refreshments which provides an opportunity for fellowship.
A perpetual Book Sale runs on Sunday mornings for those who wish to refresh their reading library at knockout prices!!!
Should you wish to make an on-line donation to St. Columba, please use the CanadaHelps.org button below. Thank you for supporting our ministries.
As one way to raise funds, we offer Our Gift Card Program. Please visit www.fundscrip.com to sign up for on-line orders that will benefit our parish program. Use our Invitation Code - FSS5DW to ensure proceeds are directed to St. Columba. Payments can be made by credit card, on-line banking, Electronic Transfer, etc. and you can have the cards delivered straight to your door! You receive the full value you spend and the Gift Cards you purchase through this program are a wonderful cost-free way to support our parish! THINK BIRTHDAYS, ANNIVERSARIES, WEDDING, SHOWER, & HOSTESS GIFTS!!!!!
If you have any questions, please contact Lesley in the church office.