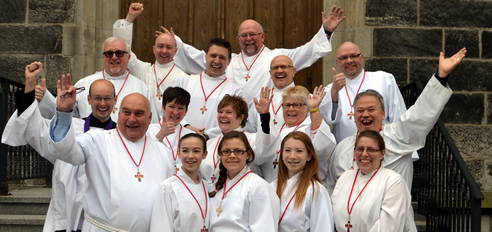 Diocesan Servers Guild
Servers play a vital role in life changing worship; The Diocese of Niagara's Servers' Guild was created in June 2013 by The Very Reverend Peter Wall, Dean of the Diocese of Niagara. This new guild will bring servers from across the diocese to serve at Christ's Church Cathedral for diocesan services such as ordinations, confirmations and Order of Niagara.
The mandate of the Diocesan Servers' Guild is to:
Provide a sense of belonging and fellowship for those who share in this ministry in all of our parishes;
Deepen the understanding of the server's role and encourage growth in commitment to God; and
Encourage and promote life changing worship.
Sean Tiernay has accepted the appointment of Head Server of the Diocesan Servers' Guild. As a server in the diocese for over 20 years, Sean brings energy, experience and excitement to the Guild and will help build this important ministry.  In addition to providing leadership to the Diocesan Servers Guild, Sean also provides support or resources for the training and development of parish Servers Guilds.
The server's office is a living example of Christian service. Any altar server within the diocese interested in joining this exciting ministry is encouraged to contact Sean at 905-315-1996 or you may complete the online registration form

Mr. Sean Tiernay
Head Server of the Diocesan Servers' Guild