Bishop's Company
The Bishop's Company is a fund that allows the bishop to compassionately and strategically respond to the emergent needs of our diocesan leaders, lay and ordained, in addition to responding to the needs of our fellow siblings in Christ within our diocese and beyond.
Annual Bishop's Company Dinner Has Moved Online
Save the date: Monday November 30th, 2020
Venue: Online via Zoom
7:15 p.m. - Live music
7:30 p.m. - Program begins
Wrapping up around 9:00 p.m.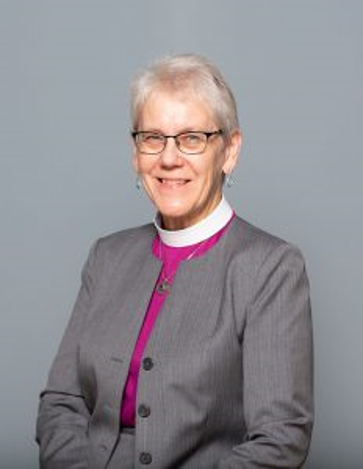 While we may not be able to gather together in-person we are delighted to spend an evening together with Archbishop Linda Nicholls, Primate of the Anglican Church of Canada.
Please save the date and join us as we celebrate our diocesan family and welcome our distinguished guest!
Photo credit: Michael Hudson/Anglican Church
of Canada
Join Archbishop Linda Nicholls, primate of the Anglican Church of Canada as she is interviewed by Bishop Susan Bell. Take this opportunity to ask Archbishop Linda Nicholls anything – from the work to renew the mission of the Anglican Church of Canada to her favourite canoeing spot. When you become a member or renew your membership with the Bishop's Company you will be provided an opportunity to ask your questions.
Join our time together at 7:15 pm to hear special music. Bring a glass of your favourite beverage to toast the Queen and the Church. We look forward to an evening of laughter, friendship and community building as we hear how your donations strengthen the Anglican community in the Diocese of Niagara and beyond.
About this Event
We are bringing the Bishop's Company annual event online for our members only. This event is only for our Bishop's Company members and 2020 recipients of the Order of Niagara. Registration is OPEN!
Download printable registration form
The Most Reverend Linda Nicholls
Archbishop Linda Nicholls was installed as Primate of the Anglican Church of Canada on July 16, 2019. Previously she served the Church as Bishop of Huron (2016-2019), Area Bishop of Trent-Durham, Diocese of Toronto (2008-2016), Coordinator for Dialogue for Ethics, Interfaith Relations and Congregational Development at the national office, and almost twenty years as a parish priest in the Diocese of Toronto. With degrees in music (BMus) and education (BEd) Archbishop Linda taught high school music and math at Woodstock International Christian School for five years before theological studies at Wycliffe College (University of Toronto) and ordination as a deacon (1985) and priest (1986). She also holds a Doctor of Ministry degree (University of Toronto, 2002).
In addition to her commitment to healthy vibrant parish communities, Archbishop Linda has engaged in the renewal of the healing ministry in congregational life; ethics in healthcare; spiritual direction; national theological commissions and ecumenical dialogue. She has served as the Co-Chair of the Anglican Roman Catholic Dialogue in Canada and is a member of the third Anglican Roman Catholic International Commission (ARCIC III).
Archbishop Linda delights in opportunities to exercise her gifts as a teacher in leading retreats and conferences. Choral singing, wilderness canoeing, and walking fill her recreation time along with her duties as staff to a cat.