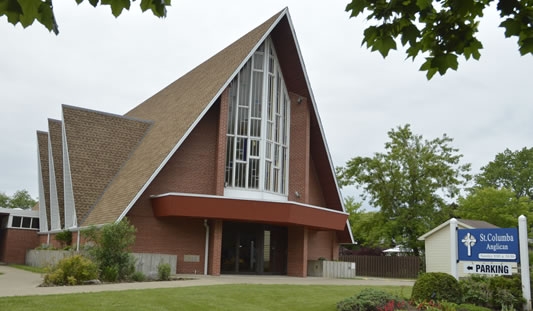 St. Columba
WELCOME BACK TO IN-PERSON WORSHIP!
CELEBRATION OF THE EUCHARIST SUNDAYS AT 8 & 10:30AM, WEDNESDAYS AT NOON.
WE LOOK FORWARD TO GREETING YOU IN PERSON! ADVANCE REGISTRATION REQUIRED - COVID 19 PROTOCOLS IN PLACE.
FOR ONLINE CELEBRATIONS OF THE EUCHARIST AND MUCH MORE CHECK OUT OUR FACEBOOK PAGE ON THE LINK BELOW:
PARISH EVENTS & CENTERING PRAYER REMAIN POSTPONED UNTIL FURTHER NOTICE - NO HALL OR KITCHEN USE OR RENTALS.
New to the Anglican Church? Have questions about our beliefs and practices? Visit www.niagaraanglican.ca/being-anglican or contact the church office.
St. Columba is a joy-filled community and we welcome spiritual seekers and anyone who wishes to explore their faith! Our church is contemporary in style with no stairs and all facilities on ground level.
Should you wish to make an on-line offering to St. Columba, we can now accept direct e-transfers to columba@bellnet.ca
If you prefer please use the CanadaHelps.org button below. Thank you for supporting our Church.

As one way to raise funds, we offer Our Gift Card Program. Please visit www.fundscrip.com to sign up for on-line orders that will benefit our parish program. Use our Invitation Code - FSS5DW to ensure proceeds are directed to St. Columba. Payments can be made by credit card, on-line banking, E-transfer, etc. and cards delivered straight to your door! Gift Cards are a wonderful way to support our parish! THINK BIRTHDAYS, ANNIVERSARIES, WEDDING, etc. GIFTS If you have any questions please contact Lesley in the church office.