The Primate of All Canada to spend Holy Week in Niagara
Posted March 27, 2017
The Bishop and the Dean are pleased to announce that the Primate, Archbishop Fred Hiltz, has graciously accepted their invitation to participate in an extended diocesan visit from April 9 to 16.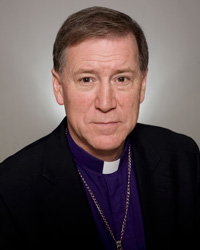 "We at the Cathedral are delighted in having the Primate with us throughout Holy Week, The Triduum, and on Easter Day," said Dean Peter Wall, rector of Christ's Church Cathedral. "Archbishop Hiltz is a good friend of the Cathedral, and a great teacher and preacher in our church. His passion for God's mission in the church and his poetic and deeply moving way of engaging us is simply magnificent."
Archbishop Hiltz's practice is "to make the journey from the glory of the palms to the glory of the Resurrection" in one location. Last year he made the journey to Easter at the convent of the Sisterhood of St. John the Divine in Toronto and has done so in communities across Canada. "It's great to root yourself in one place for the week."
While in Niagara, the Primate will preach at the Cathedral's Palm Sunday and Easter services. "It's a very important time of year of course; Easter is the heart of our faith," observed the Primate. In addition, on Holy Tuesday Archbishop Hiltz will participate in the renewal of ordination and baptismal vows for the clergy and laity of the diocese. As a former diocesan bishop, the Primate treasures this occasion in particular, remarking what a privilege it is "to be with folks who are renewing their commitments to Christ and the Gospel and his Church."
"We are so much looking forward to having him in our midst," said Dean Wall and added, "we invite all members of the diocesan family to join us as they can. You will be welcome!"
The Primate's Itinerary
PALM SUNDAY April 9th
10:30 AM - Choral Eucharist with the Liturgy of the Palms
Presider: Dean Peter Wall
Preacher: Archbishop Fred Hiltz
HOLY TUESDAY April 11th
12:15 PM - Holy Eucharist and Renewal of Vows
Presider: Bishop Michael Bird
Preacher: Archbishop Fred Hiltz
MAUNDY THURSDAY April 13th
7:30 PM - Holy Eucharist, with the Ceremony of the Washing of Feet
Presider: Dean Peter Wall
Preachers: Canon Sharyn Hall, Archbishop Fred Hiltz, Mr. Rob Jones
FRIDAY, APRIL 14: GOOD FRIDAY
11:00 AM – The Solemn Liturgy
Officiant: Archbishop Fred Hiltz
Preacher: Dean Peter Wall
SATURDAY, APRIL 15: THE GREAT VIGIL OF EASTER
9:00 PM - The Lighting of the New Fire, Reading of the Prophecies, Renewal of Baptismal Vows.
Presider: Archbishop Fred Hiltz
Preacher: Bishop Michael Bird
Sunday, April 16 – The Sunday of the Resurrection
10:30 AM - Procession and Solemn Eucharist:
Presider: Bishop Michael Bird
Preacher: Archbishop Fred Hiltz