The Reverend Canon David John Burrows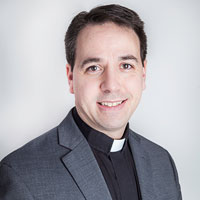 Ordination dates:
Deacon - June 11, 2000, Diocese of Niagara
Priest - February 18, 2001, Diocese of Niagara
Age: 44
Academic Background and Professional Qualifications
Masters of Divinity Honours, Queen's Theological College, St. John's NL, 2000
Bachelor of Arts (Classics), McMaster University, Hamilton, 1997
Parish Placements and Ministry History
Rector, Parish of the Ascension, Mount Pearl, Diocese of ENL, 2005 – Present
Associate Priest, All Saint's Parish, CBS, Diocese of ENL, 2002 – 2005
Associate Priest, St. Christopher's Burlington, Diocese of Niagara, 2000 – 2002
Catechist, Parish of Burgeo, Diocese of Western Newfoundland, Summer 1998
Program Director for Children and Youth, Knox Presbyterian Church, Burlington, 1995 – 1997
Founder/Executive Director, Home Again Furniture Bank, 2015 – Present
Member of General Synod 1995 and 2016
CoGS Member 2016 – 2019
Alternate Clergy Delegate to the Anglican Consultative Council (2017 – 2019)
Anglican Partner to the Episcopal Church of the U.S.A., 2016 -Present
Coordinator of the Religious Social Action Coalition, NL 2010 – Present
Public Witness for Society and Ecological Justice (Anglican Church of Canada) coordinating team member, 2016 – Present
Canadian Lutheran Anglican Youth Gathering National Planning Team Member, 2012 – 2016
Coordinator Avalon Archdeaconry Youth Conference (God's Positioning System) 2013 – 2017
Other Areas of Interest
Poverty elimination is one of the areas of passion for which I advocate and fight. To this end, I combined a passion of learning and teamwork in the project Dancing with the Priests (2009) as together with ten other priests and six dance studios, we learned to dance, and performed before 1000 persons, supported by over 150 volunteers from various segments of society, enabling core funding to be provided to Vibrant Communities St. John's.
In both 2012 and 2014 I brought together teams from the parish of the Ascension to compete in Targa NL http://targanfld.com/, an International Motorsport Race, in order to raise funds and advocacy awareness for Autism Society NL.
Apart from dancing and driving, I enjoy walking, cycling, writing, and kayaking. Together with my wife Krista, daughters Leah and Phoebe, and dog Brodie, we enjoy hiking the East Coast Trail, exploring beaches, and preparing and enjoying great food. In the hard places of my ministry, it is life giving to be able to come home, unwind, and relax with my family.
Publications
Weekly Word, Parish of the Ascension Chimes, 2005 - present www.parishoftheascension.ca
Coordination of the writings and research of the Religious Social Action Coalition of Newfoundland and Labrador, 2010 – present www.rsacnl.com
Stumbling Blocks and Stepping Stones, Parish of the Ascension Blog, 2010 – 2013 www.parishoftheascension.ca
Easter(n) Pilgrims, The Community, 2013 - present https://medium.com/@david_burrows
Easter(n) Dialogues, A Guide for Initiating Parish Conversations around Human Sexuality in the Diocese of Eastern 
 Newfoundland and Labrador http://anglicanenl.net/home/wp-content/uploads/2015/08/272563779-Easter-n-Dialogues.pdf
Twitter @foxtrap_burrows
https://www.facebook.com/foxtrapburrows
https://www.facebook.com/ParishoftheAscension/
Question #1 - What core principle(s) (max 3) guide your ministry and leadership style?
Partnership with God
In Rabbi Mark Gellman's book of short stories Does God have a big toe? God speaks with angels about the process of creation and describes partnership. "A partner is someone you work with on a big thing that neither of you can do alone. If you have a partner, it means you can never give up, because your partner is depending on you." We are in partnership with God, to continue to finish the world as God intends.
Team with Others
Most of my growing up I spent in choirs, bands, and on soccer teams. In this process, I was never the star. All of the roles I played were essential within the working of the larger group; they had their place, and were essential at different times. I learned how to listen, predict, count, and try to be in the right place at the right time. This I believe is essential for any leader, for we never lead alone.
Service for God's Realm
After I cycled back from Ottawa in 1995 from General Synod, I felt I would either walk away from the church, or be a part of transforming the church to reflect the reality of what God intended for us. I didn't walk away and I haven't looked back yet. I believe we are called to serve, and so to bring about God's realm.
Question #2 - What do you think are the three most significant challenges facing the Diocese of Niagara over the next 5 years, and what is your vision for how we might respond?
The three most significant challenges facing the diocese over the next five years include our ability to:
Integrate and expand our current ministries to include vulnerable communities within the diocese, including urban indigenous people and other marginalized communities. Facilitate a process of listening and journeying with these communities, so that dignity and justice exist among all people of Niagara as the full expression of God's realm.
Increase community partnerships with others beyond the diocese: municipalities, other faith groups, social agencies and businesses, as well as provincial and federal representatives, supporting parishes to live out their baptismal ministry in a way that the framework of diocesan and parish structures and canons are flexible. This will enable the Spirit to infuse leaders with vision and courage to provide ministry projects that respond effectively and creatively to local need.
Explore with openness the nature of how we can fully be the people of God, a community of faith, whose rich traditions and participation in today's society demand that we sustain a rule of life, modeled for service, praise, and thanksgiving to God, while we interpret, share and reflect upon our spiritual life in the midst of an often chaotic and changing world.
These three core challenges have to be tempered with an understanding of how the diocese interacts on both local and international levels.
Question #3 - Identify 2 significant leadership roles you have played in your diocese. In each case, what was your role, what did you learn, and what was the outcome?
In 2010 I was appointed as a Director, (and then the Coordinator) of the Religious Social Action Coalition, NL. In this role, I represent Anglican interests in a multifaith dialogue (Christian, Jewish, Hindu, Muslim, Sikh) concerning the elimination of poverty, the establishment of a Living Wage, and advocacy with the Provincial Government to examine all provincial legislation with a lens to address the gap between the rich and the poor. Together with the members of RSACNL, we have challenged the Provincial government to increase wages, and applauded their increases of minimum wage by $1.00 over the last three years.
In 2014 I was appointed to the role of Canon for Society and Justice. In particular I have learned much from my role with Home Again Furniture Bank, a non-profit ministry venture that began through my leadership with the Parish of the Ascension in 2015. Through this I have learned how to function as an Executive Director of a non-profit, how to drive a cube van (and get a class five driver's license), and how to work effectively with various staff and volunteer teams, while completing my role and responsibilities as a parish priest. By the very nature of my background of entrepreneurial endeavors in the non-profit sector it has equipped me with a proven track record in sourcing and assessing a variety of funding streams. All of my roles have required me to learn the craft of building values with others for them to support projects and ministries.
Question #4 - Identify a role you have played or a significant way you have been involved in the national Church and/or the worldwide Anglican Communion. What did you learn from this experience?
Between 2012 and 2016 I served as the vice chair and chair of the Canadian Lutheran Anglican Youth Gathering (2014 Kamloops, 2016 Charlottetown). I worked effectively with youth leaders and volunteers to provide meaningful learning experiences for over a thousand youth and youth leaders. In this I was faced with challenge of managing conflict, resolving conflict, while at the same time enabling the leadership team to take their tasks and excel in their areas of expertise.
As a CoGS Member and Partner to the Episcopal Church, I am immersed in the work of the executive councils of the Anglican Church in Canada and the United States. I believe that there is much difference in the world, and as an Anglican, I am called to hold the difference in dialogue with grace. The Anglican Church is a moderating, reasonable voice for those that may have lost hope in their own expressions of Christianity or Spirituality. In a world that is shaped by transnationalism, these values of the Anglican Church are well placed amid unprecedented population movements.