The Venerable Dr. David John Anderson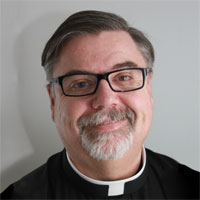 Ordination dates:
Deacon - June 3, 2001, Diocese of Niagara
Priest - December 8, 2001, Diocese of Niagara

Age: 55
Academic Background and Professional Qualifications
Doctor of Ministry (Congregational Mission and Leadership). Luther Seminary, St. Paul, Minnesota, USA. 2017 Thesis: "Transforming Communities and Creating Disciples of Jesus through the Practices of Neighborliness: Apprenticeship in the Ways of Parish Life for the Twenty-First Century." Thesis Advisor: Dr. Craig Van Gelder, Ph.D.
Certificate in Mission-Shaped Ministry. Wycliffe College and Fresh Expressions Canada. 2008.
Master of Divinity. Wycliffe College, Toronto School of Theology, University of Toronto. 2001 Thesis: "Eucharistic Hospitality and Catechesis: Reflections on the Open Table." Thesis Advisor: The Reverend Canon Dr. George Sumner.
Bachelor of Religious Education. Ontario Bible College, Willowdale, ON. Pastoral Studies. 1997.
Parish Placements and Ministry History
Rector, St. John the Evangelist, Hamilton, 2006 – present.
Archdeacon of Hamilton-Haldimand, Diocese of Niagara, 2018 – present.
Elected member of Provincial Synod (Ontario), 2013, 2018.
Stewardship of Properties Task Force, 2016 – present.
Synod Agenda and Planning Committee, 2015 – 2017.
Archdeacon of Undermount, Diocese of Niagara, 2016 – 2017.
Member of Synod Council and member of the Synod Council Planning Committee, 2014 – present.
Honorary Secretary of Synod, 2012 – 2015, 2017.
Honorary Canon of Christ's Church Cathedral, Diocese of Niagara, 2013.
Bishop's appointee to Board of Directors, Mission to Seafarers, Port of Hamilton, 2010-2016. Served as chairperson of the Board of Directors, then as Vice-President of the Mission to Seafarers—Southern Ontario following amalgamation.
Candidates Committee, Diocese of Niagara, 2003 – present.
Rector, All Saints Ridgeway and St. John Ridgemount, Fort Erie, 2001 – 2006.
Regional Dean of Brock, 2002 – 2006.
Member of the Stewardship and Financial Development Committee, Diocese of Niagara, 2003 – 2006.
Licensed Minister, Good Shepherd Community Church, Scarborough, ON, 1987 – 1999.
Lay Supply Minister, Mount Carmel United Church and Lowbanks United Church, The Niagara Presbytery of the United Church of Canada, 1984 – 1987.
Other Areas of Interest
David is currently working on a book project with the proposed title, The Congregation Becoming a Learning Community: Cultivating Discipleship in the Missional Church. This project is being undertaken in the company of a small group of academics mentored by Dr. Craig Van Gelder.
David is a member of the Academy of Religious Leadership; a friend of St. Gregory's Abbey in Three Rivers, Michigan; and an early endorser and continuing participant in Ekklesia Project.
David enjoys spending time with his family. He is married to Kathryn Anderson and has two daughters, Fiona (1996) and Kaelynn (1998). David's parents, Mary and Alistair, still live in St. Catharines, where David grew up.
David relaxes by riding his motorcycle and also enjoys sport-fishing and travel when time and resources allow. David is attempting to rediscover what it means to have "free time" following the completion of his doctoral work.
Publications
Internet: www.djanderson.com; www.rockonlocke.ca
Twitter: @djanderson164
"Going Missional: What are We Talking About?" in The Niagara Anglican, December 2017, 2, [https://niagaraanglican.news/2017/11/28/going-missional-what-are-we-talking-about].
Doctor of Ministry thesis: "Transforming Communities and Creating Disciples of Jesus through the Practices of Neighbourliness: Apprenticeship in the Way of Parish Life for the Twenty-first Century," [www.djanderson.com/papers/thesis].
Question #1 - What core principle(s) (max 3) guide your ministry and leadership style?
The starting place guiding ministry and leadership is for me the fundamental understanding that the mission we share is first of all God's. The missio Dei (the mission of God) orients us in the right direction. Wholeness, justice, peace, human and creational flourishing are some of the hallmarks of God's future, or what Jesus calls the reign, or kingdom of God. The missio Dei not only points us in the right direction, it informs our actions. In other words, the end shapes the means. The ways in which we participate in mission, do our ministry, and live our life as the church, will be shaped by a biblical vision that informs our imagination for God's future.
A second important principle is that ministry belongs to the whole church. While leaders will have special charisms and roles, the work of ministry belongs to all. This leads directly to the third principle specific to leadership.
Leadership consists in calling forth and equipping the whole people of God in their vocation. Christian leaders have a role in inspiring an imagination for God's preferred future and encouraging the practices that form people for participation in the same.
Question #2 - What do you think are the three most significant challenges facing the Diocese of Niagara over the next 5 years, and what is your vision for how we might respond?
The Diocese of Niagara is blessed with some of the most creative, imaginative, and inspiring leaders in our church. One of the significant challenges we face involves rising to the opportunity this provides. Our life together as a diocese and in each of our parishes is enhanced when leaders are given opportunities and are equipped to lead and serve, multiplying our ministry.
One of the significant challenges we face involves concerns and challenges regarding sufficient resources. Fewer numbers in worship and less dollars available to do ministry have us concerned about our ability to carry on ministry in some places. The opportunity in some of these situations involves new partnerships and forms of ministry. We will need to remain flexible in order to adapt to the new ministry challenges and opportunities of our day, equipping parishes to work from their strengths.
A third significant challenge involves continuing to engage our neighbourhoods and communities in relevant ways. Many parishes have become adept at this. We need to learn from each other. Our engagement with God in mission begins with deep listening to our context, knowing the needs of neighbours, and responding in God's name.
Question #3 - Identify 2 significant leadership roles you have played in your diocese. In each case, what was your role, what did you learn, and what was the outcome?
As Archdeacon of Undermount, and now as the Archdeacon of Hamilton-Haldimand, I have had a tremendous learning opportunity. My participation in Synod Council, the Bishop's Advisory Group, and working with parishes in various ways, has given me the opportunity to learn a great deal about our parishes and the issues they face. and has provided me with insight into how the episcopal office can be helpful. In the realignment bringing most of the parishes of Hamilton and Haldimand together in one region, we learned a great deal about the missional aspirations of the parishes in these regions and we are working together to address these.
As the bishop's appointee to the Board of Directors of the Mission to Seafarers, Port of Hamilton, it became obvious to me, early on, that this important work was not financially sustainable for the future. Volunteers had been the backbone of the Mission for decades, but due to age their numbers were declining. Donations to the Mission had also declined and the work of the Mission fell heavily on underpaid and overworked staff. Things had to change. As the Chairperson of the Board, I spearheaded the discussions that led eventually to the amalgamation with the Mission in Toronto, creating The Mission to Seafarers—Southern Ontario. The learning was all about the power of collaboration, partnerships, and perseverance in the face of obstacles. While the new Mission continues to face challenges, its ministry is stronger and more vibrant than in many years.
Question #4 - Identify a role you have played or a significant way you have been involved in the national Church and/or the worldwide Anglican Communion. What did you learn from this experience?
While I have not had the opportunity to be directly involved in the councils of our national Church or the worldwide Anglican Communion, I have, as archdeacon, had the opportunity to advise our bishop on matters relating to the same. On the matter of equal marriage for example, I suggested to Bishop Michael that there was little in the existing marriage canon to prohibit the marriage of persons of the same gender. My advice to Bishop Michael, based on my reading of the canon, was that we could proceed with equal marriage, notwithstanding any changes, with the concurrence of our chancellor. This opinion was later shared by others, including the Chancellor of General Synod. This interpretation is now fundamental to our diocesan position at this time. I learned again that we all have a role to play in the councils of the church, even when we may not actually attend ourselves.