Syrian Refugee Family Arrives On New Year's Day
Posted January 1, 2016
As the world prepared to welcome the New Year, the people of St. James and St. Brendan Anglican Church in Port Colborne were gearing up to welcome the first of two related Syrian refugee families it has sponsored in response to the global refugee crisis.
Over the past 5 years, 15 conflicts have erupted or reignited, displacing tens of millions of people. Over 4 million Syrians alone have fled to neighbouring countries.
"Nine months ago our church accepted the challenge to make a difference in the Syrian refugee crisis," said the Reverend Canon Rob Hurkmans, rector of the church which sponsored the family. "We prayed fervently and gave generously. We sensed God at work in our midst. As we welcome our first Syrian family, our prayers are answered and our joy is complete!"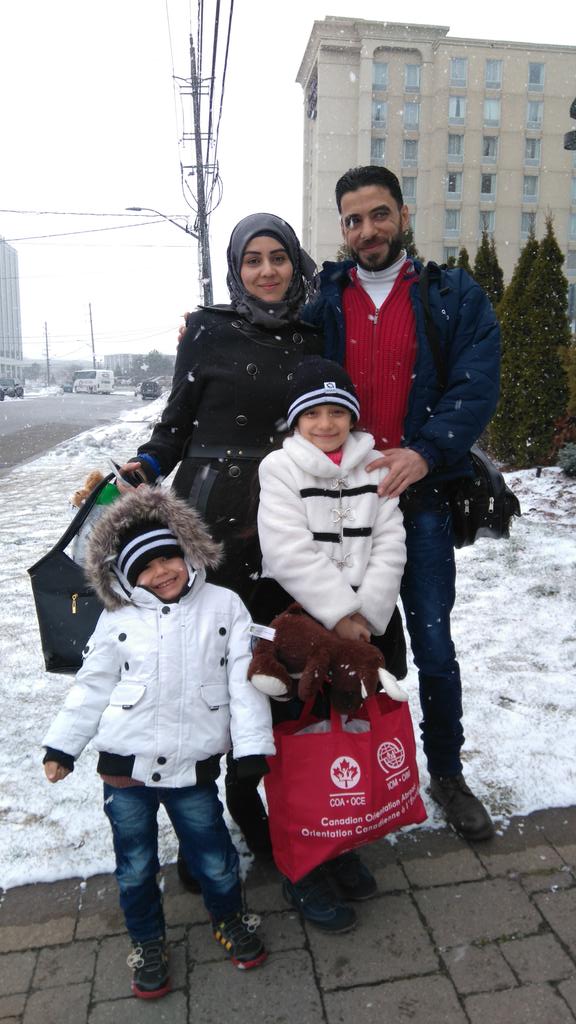 Belal, Hiba, Jana and Fares (pictured here) arrived in Canada on New Year's Eve after a three-leg flight from Lebanon. After an overnight in Toronto, local parishioners met the family at their hotel and travelled with them to their new home in Port Colborne on New Year's Day.
"Sponsoring a refugee family doesn't just change their life; it changes everyone's life," said Bishop Michael Bird. "The parish and community's efforts exemplify our tradition of welcoming the stranger with compassion and care."
This is the first family to arrive as part of the diocese's goal to sponsor as many as 50 refugees to mark its 140th anniversary– a goal that is now expected to be surpassed. The Diocese has been a private sponsor of refugees under the auspices of a Citizenship and Immigration Canada program for several decades. Donations to support the refugee sponsorship efforts may be made online.
Please continue to pray for both newcomers like this family, as well as refugees throughout the world. Parishes and groups can learn more about refugee sponsorship here. For more information, please contact the Reverend Bill Mous of the Reverend Scott McLeod.