Sacred Circle Convenes in British Columbia
Posted August 13, 2018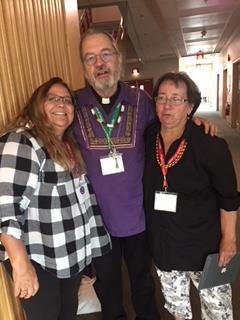 Sacred Circle is "the gathering of community from across Canada, lighting the Sacred fire, worship, the study of Scripture using the Gospel-based discipleship method, reconnecting with old friends and meeting new ones, being with the 'familiar' and many opportunities for profound learning," said Archdeacon Val Kerr when asked to describe what the triennial gathering of the national decision-making body of Indigenous Anglicans entails.
A "profound, exciting and uplifting" experience, the ninth Indigenous Anglican Sacred Circle took place at the beginning of August at the University of Northern British Columbia campus in Prince George.
Archdeacon Kerr and Janice Whitely, a parishioner at St. Matthew on-the-Plains, Burlington, attended the Sacred Circle from Niagara. A total of 169 people from 19 dioceses registered, including five international guests.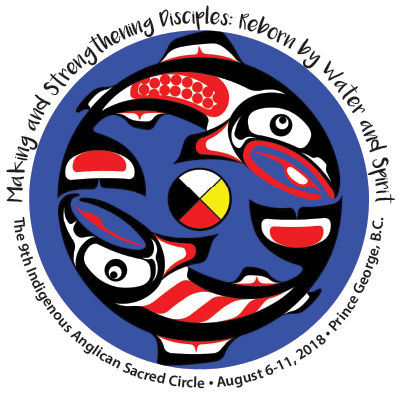 Over the course of several long days, participants explored the theme: 'Making and Strengthening Disciples: Reborn by Water and Spirit' as they journeyed towards discerning a self-determining Indigenous church within the Anglican Church of Canada. National Indigenous Anglican Bishop Mark MacDonald drew on the theme to call for discipleship to be at the centre of the Indigenous church of the future.
While it was an intense week, Archdeacon Kerr noted there was also lots of laughter throughout the experience too; particularly during the Gospel Jamborees which happened each evening.
One of the significant moments for Archdeacon Kerr was an "eye opening, liberating, and life-giving" presentation by Dr. Martin Brokenleg, which reflected on a paper he authored for the Sacred Circle on the spirituality of self-determination.
In small, interest-based focus groups, the Sacred Circle explored topics related to the opioid crisis, resource extraction and climate change, governance for self-determination, missing and murdered Indigenous women and girls, the marriage canon, and suicide prevention.
One of the most poignant moments happened as participants commemorated the 25th anniversary of the Anglican Church of Canada's apology for the residential schools system, delivered by then-Primate Michael Peers. Archbishop Fred Hiltz marked this moment at the opening Eucharist, urging Anglicans "more than ever" to work to ensure "the church's apology remains a living text."
The Primate's words resonated with Archdeacon Kerr, who noted that while progress has been made, "there is still much work to do and the pace at which things happen can be frustrating." She went on to say that the anniversary was a moment to "remember all who have contributed so much and worked tirelessly towards self-determination for our people."
The Sacred Circle also elected members of the Anglican Council of Indigenous Peoples (ACIP), representing all four provinces of the Anglican Church of Canada, to serve a three-year term.
Reflecting on the experience as a whole, Archdeacon Kerr says this Sacred Circle was about "witnessing much hard work, prayer, determination, struggle and love come together."