New Vice-Chancellor Assumes Role As Officer of Synod
Posted March 10, 2017
Ash Wednesday is day that marks the beginning of the Lenten journey towards Easter. For one Anglican in the diocese, however, it marked the beginning of journey of a different kind. On March 1, Greg Tweney assumed the role of diocesan vice-chancellor.
"I am absolutely delighted that Greg has accepted my appointment and has begun his work as our vice- chancellor," said Bishop Michael Bird. "As a lawyer working in the Attorney General's office, combined with his demonstrated passion and his experience as a lay leader at St. Elizabeth's, Burlington he is well qualified to take on this role."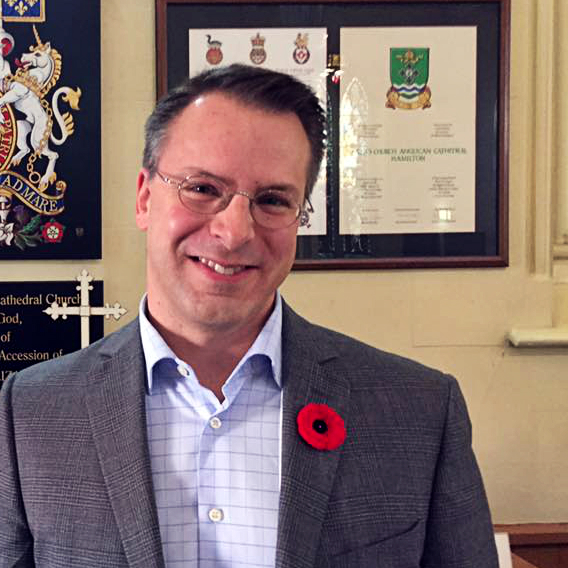 "When the Bishop approached me about taking on the role of Vice-Chancellor, I saw the opportunity to broaden my experience with the work of the diocese," said Tweney as he also expressed how honoured and humbled he was to be asked to serve in this way. The vice-chancellor is an officer of the diocese and ex-officio member of synod tasked with supporting the bishop and chancellor with the interpretation of the canons and providing counsel on important matters. "I like the challenge of problem-solving and exploring creative solutions to help achieve common goals."
There are two canonical requirements for the appointment of chancellors: that they be "communicants of the Church" and a member of the Ontario bar for more than 10 years. With regards to the latter requirement, Tweney was called to the bar almost twenty years ago, where he has mostly served as Crown counsel in criminal appeals before the Ontario Court of Appeal, in Toronto. He has appeared before every level of court in Ontario, and the Supreme Court of Canada but these days, as deputy director of the Crown Law Office – Criminal, he has more supervisory and managerial duties so his presence in court is somewhat limited.
In all aspects of his life Tweney notes that his "greatest joy comes from meeting and helping people." He anticipates that as vice-chancellor he will continue to be able to do this, "not just in my own community, but in communities all across the diocese, including several places I've called home at various points in my life."
Tweney was born in Hamilton, spent his early childhood years in Niagara Falls, and grew up in Stevensville. He currently lives with his wife, Valerie, and their two teenage daughters in Oakville. The Anglican Church has intersected with Tweney throughout his life but most recently through his involvement at St. Elizabeth's in Burlington where he has served as a warden for the past three years,.
"My faith informs my vocation, but my professional life also informs how I live my faith," observed Twenty, noting that as a prosecutor, his decisions are guided by the need to act in the public interest. "This same broad perspective to the decision-making process will hopefully be a useful guidepost in my role as vice-chancellor, and steward of the laws of our church."
Chancellor Rob Welch looks forward to working collaboratively with Tweney and noted that he was most "impressed by his enthusiasm and his fresh perspective." Already the two chancellors, along with Secretary of Synod Marni Nancekivell, have begun to explore the ways in which they can work together on the many important governance and legal issues of the church.
"I am looking forward to the wealth of gifts and expertise Greg will offer the Bishop and the people of the Diocese of Niagara for many years to come," said Bishop Bird.
Greg Tweney will be installed along with newly appointed canons at a special service at Christ's Church Cathedral in Hamilton on Sunday March 19th at 4pm.