In Memoriam: The Right Reverend Walter Asbil (1932-2023)
Diocese mourns the death of the ninth Bishop of Niagara
Posted April 12, 2023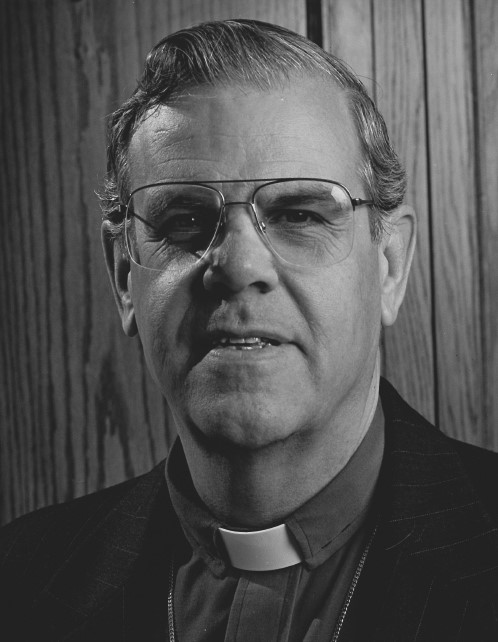 Bishop Walter Asbil, retired diocesan bishop of Niagara, died on April 8, 2023 on the eve of Easter, at the age of 90.
"Bishop Walter was a faithful and dedicated servant who led the diocese with the heart of a pastor," said Bishop Susan Bell. "He was wise and compassionate, and his commitment to equipping the saints for ministry is remembered fondly by those whom he influenced across the Church."
Born in 1932, Bishop Asbil studied at Concordia University where he obtained a Bachelor of Arts in 1954 followed by a Bachelor of Divinity from McGill University and a Licentiate in Theology from Montreal Diocesan Theological College in 1957. He was ordained a deacon in May of 1957 and a priest in December of that same year. He served in several parishes in the Diocese of Montreal before moving to the Diocese of Niagara to take up the position of rector of St. George's, St. Catharines in 1970. In 1973 he was appointed an honourary canon of Christ's Church Cathedral in Hamilton, and in 1982 he was appointed to serve as a Bishop's Archdeacon. In 1986, he was appointed to serve as rector of Christ Church Cathedral and dean of the Diocese of Ottawa.
In 1990, Bishop Asbil was elected to serve as coadjutor bishop by the synod of the Diocese of Niagara. He was ordained to the episcopate on November 1, 1991 and became the ninth Bishop of Niagara on December 1, 1991. He served as diocesan bishop until his retirement on December 31, 1997. Bishop Asbil was awarded an honourary Doctor of Divinity degree from his alma mater, Montreal Diocesan Theological College.
A service celebrating Bishop Walter's life and ministry will take place on Monday, April 24 at 1pm at St. George's, St. Catharines; the service will be live-streamed via the parish's YouTube channel. Clergy are invited to vest for the service. Visitation will take place the evening before, on Sunday, April 23, from 6-9pm at St. George's.
Bishop Susan Bell asks that the parishes of the diocese remember Bishop Walter in their Sunday prayers, and offers the diocese's deep sympathy to Bishop Walters's family, friends, and colleagues as they mourn his death and celebrate his life and wonderful witness to the Gospel.