Flags Lowered To Honour Residential School Children Who Never Returned Home
Posted June 1, 2021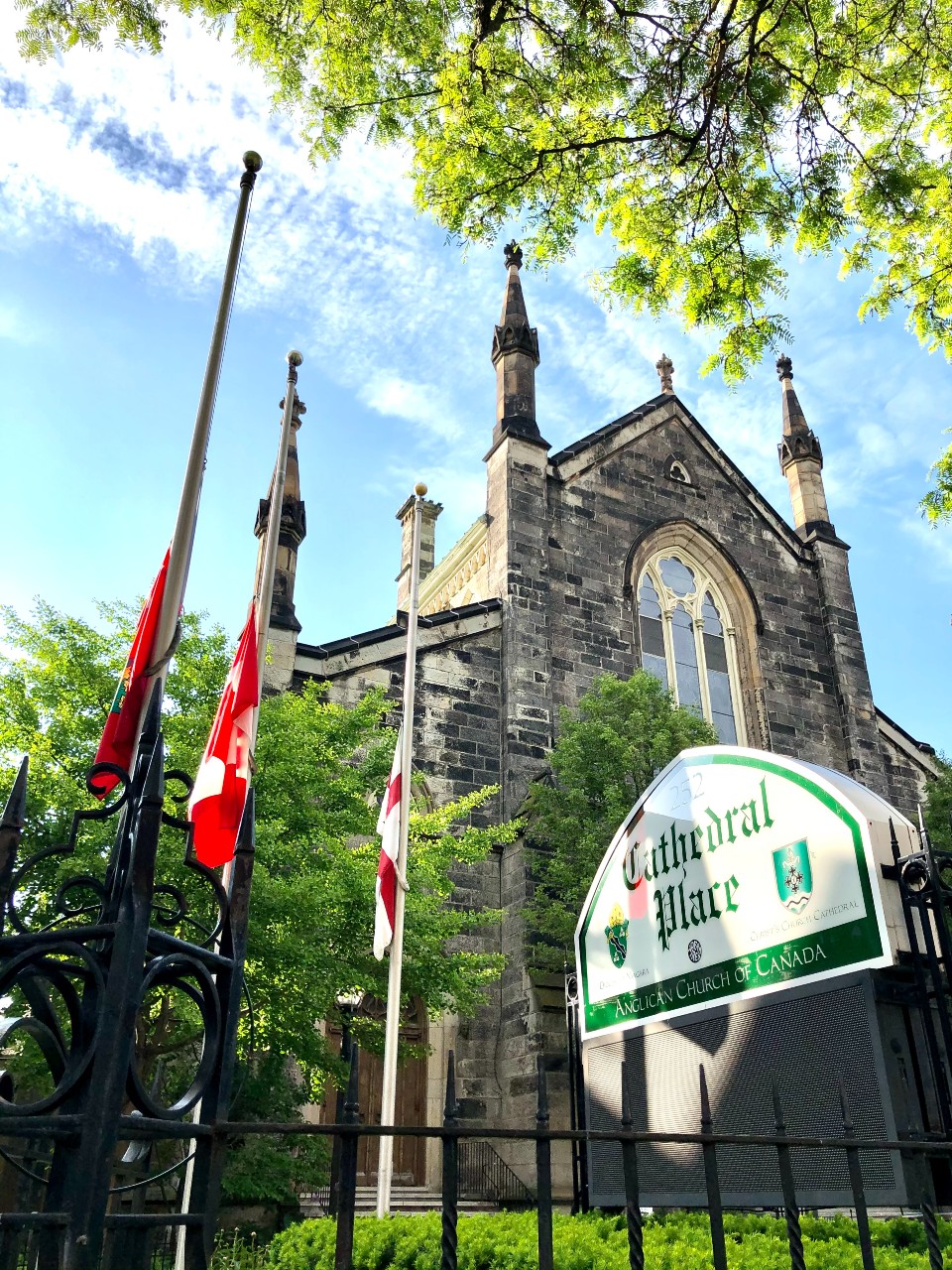 The flags at Cathedral Place were lowered to half-mast at the beginning of June out of respect for the 215 children whose remains were recently discovered at the Kamloops Indian Residential School. The were lowered again on June 25 after 715 unmarked graves were found at the site of another former residential school in Saskatchewan.
In doing so, the diocese acknowledges the suffering and pain caused by the residential schools system and the Anglican Church of Canada's complicity in it, as well as the heartbreaking reality that so many children never returned to their families.
Bishop Susan Bell offers this prayer:
Loving God,
we pray in grief for the precious little souls who never returned home.
We pray for their families - for their heavy loss -
that even now, you would bind up their hearts with your healing love.
We pray for humility; to acknowledge and ask forgiveness
for the evil in which we have been complicit.
And then Lord, we pray for the gift of righteous anger;
that it may fuel our recommitment to work for justice and love;
and fuel our resolve to call out the supremacy narratives
that damage and diminish the divine in us all.
We pray all this in the strong and just name of Jesus Christ. Amen.
The National Centre for Truth and Reconciliation estimates more than 4,000 children died at residential schools based on death records, but the true number may be much higher.
"We have known that days like this were coming and have known and feared the pain they would bring," said National Indigenous Anglican Archbishop Mark MacDonald in a post on Facebook, that went on to offer the following reflection:
"I once heard someone say that Jesus, who died on the Cross, also died in the Holocaust. If that is true, they will find him among those children. But, we who have seen him die on the Cross and suffer with us, know that this is not the end of the story. He came back to us whole and sound, in a Resurrection body, from the World to Come. A World that he said we could start living in now, through love, through prayer, through the Sacred Circle, and through his Body and Blood. His justice, his truth, his love is walking in us and through us towards that day and we have seen it. It will rise, is rising, with those children and with a truth that could not be hidden."
The Primate of the Anglican Church of Canada, Archbishop Linda Nicholls shared this reflection entitled Every Child Matters. The primate notes that there are sites at former Anglican residential schools where some graves are unmarked or where records are incomplete. "We are committed to working with Indigenous communities to assist to recover whatever information is available and to join in advocating for ground searches of those burial sites," said Archbishop Nicholls.
The Anglican Church of Canada offered this apology for its role in the residential schools system in 1993.
Anglicans in Niagara are invited to recommit themselves to the work of truth and reconciliation, drawing on resources available through the diocesan truth and reconciliation webpage, including this reconciliation toolkit.
This article was updated on June 26, 2021