Diocese Supports Housing for Indigenous & Black Seniors
Funds directed to 412 Barton Project of St. Matthew's House
Posted June 26, 2023
As a tangible expression of the Anglican Diocese of Niagara's commitment to the work of healing and reconciliation with Indigenous peoples, Synod Council approved a $100,000 contribution to support the 412 Barton project of St. Matthew's House, which will create 15 deeply affordable housing units in Hamilton by 2024.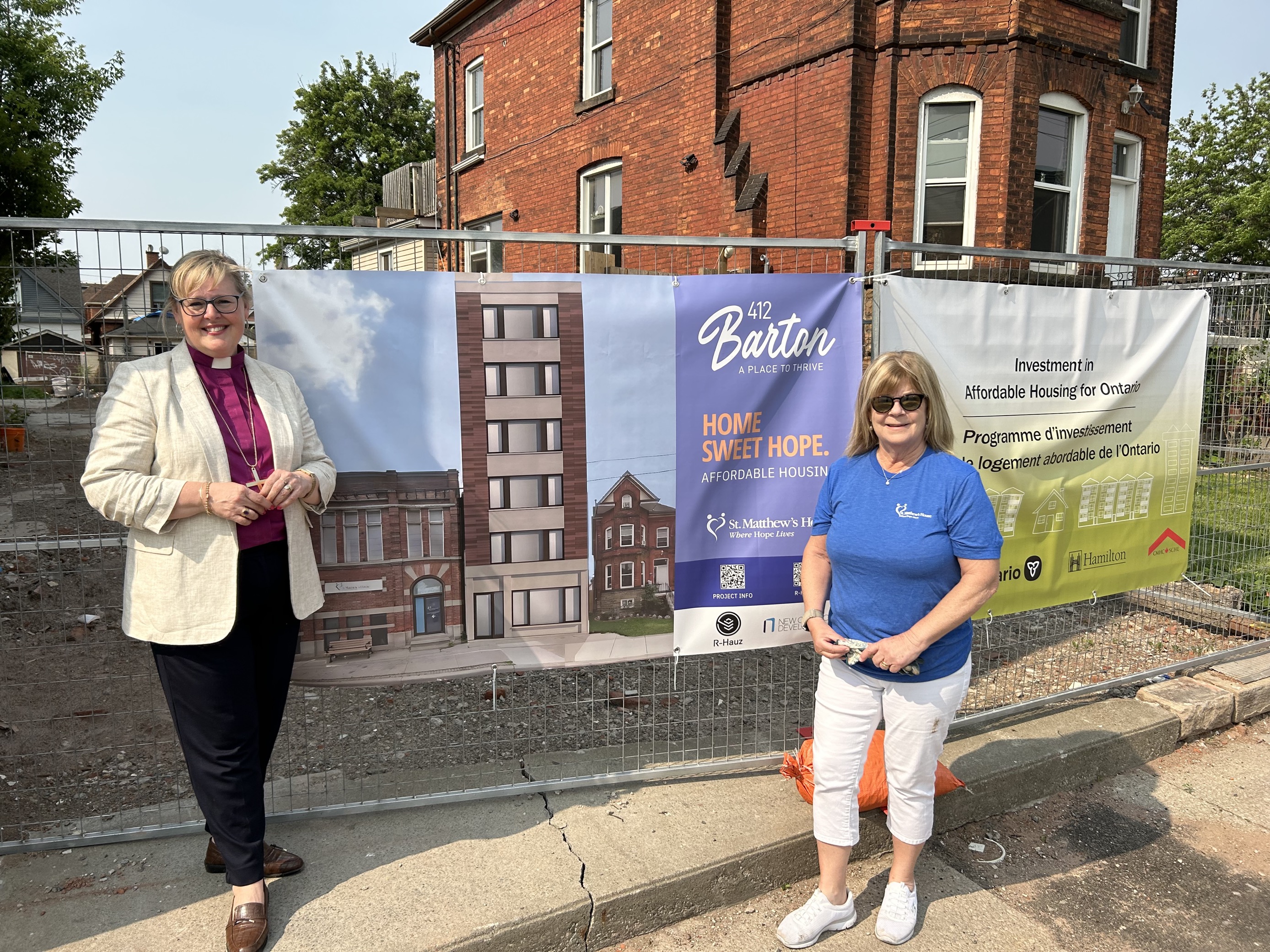 "St. Matthew's House is a place of deep and abiding hope in Hamilton," says Bishop Susan Bell. "This project is all about offering hope, as an outworking of our call to love our neighbour and a concrete demonstration of our commitment to the ongoing work of healing and reconciliation."
The new units are intended for seniors facing homelessness, with a special focus on Indigenous and Black older adults. More than half of the units are designated for Indigenous seniors. The units are made using modular construction for speed, affordability, and sustainability.
"Working in partnership with the Hamilton Regional Indian Centre and the African Canadian Caribbean Association, we will ensure that long-term culturally and spiritually appropriate supports bring long-term food, income, and housing security as well," says Renée Wetselaar, executive director of St. Matthew's House. St. Matthew's House began as an outreach ministry of the Diocese of Niagara and has grown into a non-profit social service agency.
"Over the past 60 years, St. Matthew's House has greatly benefitted from the tremendous support of the Diocese of Niagara," said Mary Burnett, chair of the board of St. Matthew's House and a parishioner at St. Paul's Mount Hope. "This very generous gift will enable a positive step towards our collective work of healing and reconciliation."
St. Matthew's House is situated on treaty lands, the traditional territories of the Erie, Neutral, Huron-Wendat, Haudenosaunee, and Mississaugas.
The 412 Barton project is a response to the housing crisis, as well as a commitment to healing and reconciliation, which has been central to the project's vision. The history of colonization and its responsibility as an organization affiliated with the Anglican Church of Canada, is something the board of St. Matthew's House sought to acknowledge through the project.
The new building will include a community kitchen and café space, as well as a healing garden. It's intended that it will be a beautiful outdoor space where Indigenous-led programming can be offered, but also as a place where seniors who call 412 Barton home will be able to interact with children from the childcare program for multi-generational programs and activities.
The diocese's major gift will support the $500,000 contribution goal of St. Matthew's House to complete the building and seed an operations fund to help provide supports such as food, cultural, spiritual safety and programming, mental and physical health connections, paralegal support, other social supports.
"We are so deeply grateful for this investment that will create a wonderful opportunity for seniors to thrive at 412 Barton," says Wetselaar.
In addition to this gift, St. Matthew's House has raised approximately $7.8 million from the federal and provincial governments, backed by the City of Hamilton. It has also secured a twenty-year operating agreement with the City of Hamilton to ensure that the rents will be less than 30 per cent of an individual's gross income, meaning that these units will remain affordable for Indigenous and Black seniors who have experienced homelessness.
St. Matthew's House also received a grant from the Anglican Foundation of Canada to bring elders, seniors, and community partners together in friendship to contribute to the physical, intellectual, emotional, and spiritual well-being of Indigenous older adults in Hamilton.
The diocesan contribution to this project comes from funds designated specifically to support truth, reconciliation, and Indigenous ministry.