Consecration Coverage
Bishop-elect Bell's ordination service to be live streamed on Saturday, May 5
Posted May 4, 2018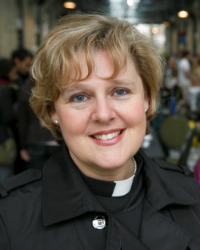 The ordination and consecration of Bishop-elect Susan Bell will begin at 11am on Saturday, May 5. We are excited to welcome Archbishop Colin Johnson, metropolitan of the Ecclesiastical Province of Ontario, back to the diocese as presider and chief consecrator for the ordination. Bishop Linda Nicholls of the Diocese of Huron will preach and Bishop Michael Bird will be the chief celebrant at the Eucharist.
The service will be live steamed on our diocesan Facebook page (Anglican Diocese of Niagara). Those without a Facebook account are still able to access this page and view the service as it happens, simply click on this page link.
As well, people are invited to follow #BellConsecration on Twitter for tweets related to the consecration (no account is needed).
Later in the month, the full service will also be available for viewing on our diocesan YouTube channel.
As we prepare for Saturday's service, please hold Bishop-elect Susan and her family in your prayers.