Churches Begin to Re-open for In-Person Sunday Worship
Pandemic-adapted services of up to 50 people resume
Posted September 14, 2020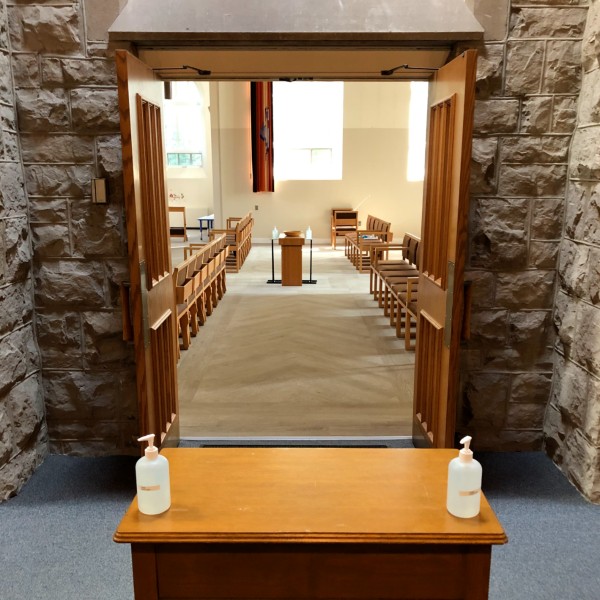 Six months after suspending worship services, Bishop Susan Bell has authorized parishes to begin re-opening for Sunday worship.
"Parishes will be returning to in-person worship in circumstances that will feel rather different from what we have enjoyed in the past," said Bishop Bell in a pastoral letter to the people of the diocese. "And while we rejoice in being able to see each other, it is so very important that we do so safely."
Before re-opening in the fall, each parish is required to develop a comprehensive, peer-reviewed re-opening plan, and then receive written permission from their regional archdeacon.
On September 13, the first Sunday churches could be re-opened for in-person worship, 20 parishes were granted permission to do so. In the coming weeks, as parishes make adequate preparations, it is expected that most churches will re-open for worship.
In her pastoral letter, the Bishop reminds worshippers that wearing masks, following hygiene protocols and maintaining physical distance is essential. "What is key is that we understand that we do these things for our neighbour and as such, we want to go further than we have to in order to love our neighbour," writes the Bishop. "We want to protect the health of our siblings – particularly those who are vulnerable, so I ask that you not only fulfil the letter but the spirit of our ministry guidelines with a joyful compliance and diligence for the care of the whole Body of Christ."
Consistent with the amber stage of the provincial synod's pandemic re-opening framework, liturgical practices and worship spaces have been significantly modified to incorporate public health guidance. Movement and interaction during a service will be limited, communion will be offered in one-kind (bread) and there will be no congregational singing, nursery care, or coffee hours.
Bishop Bell has stated that no one should feel obligated to attend worship in-person during the pandemic. Many parishes continue to offer online worship services, and the diocesan worship service, Sunday Prayers with Bishop Susan, continues to be streamed live at 2pm on Facebook each week. The Anglican Family Hub will also continue to offer a variety of virtual Sunday school and other faith formation activities for children, youth, and families.