Chaplaincy Grants Awarded
Posted August 10, 2016
With the return to classes just a few weeks away, five grants have been awarded to chaplaincies affiliated with the diocese.
Three university chaplaincies (McMaster University, the University of Guelph, and Brock University) will receive funds through the ongoing legacy of the Survive and Thrive Outreach Endowment. University students,staff and faculty, however, will not be the only beneficiaries of the diocese's Chaplaincy Grant program. The Mission to Seafarers of Southern Ontario which serves the third largest port in Canada and The Bridge, Hamilton whose Ananias House Chapel serves the spiritual needs of socially marginalized adults, are also recipients of funding.
"The diocesan grant gives us breathing space to focus on the future, rather than on our day to day survival," said the Reverend Carol Wood who recently retired as the ecumenical chaplain at McMaster University. "The grant will help us to focus on the changing demographics, reassess our priorities for programming, and seek ways of reaching out to newer faculty and staff who may be able to participate in programs, as well as providing financial support." University chaplaincies undertake ministry that is contextual to their campus, but all provide personal support, a variety of programs that range from social justice to faith formation, as well as worship opportunities and places for prayer.
Chaplaincy Grants are made for a two-year period and to a maximum of $8,500 per year. Created in 2014, this year will see $30,000 allocated to support the core work of the chaplaincy ministry, including program expenses, salary and ministry-related capital costs.
"All of the grant applications described vision-centred ministries that are responsive to the pressing needs found in the chaplaincy's community and ministry context," observed the Reverend Bill Mous, director of justice, community and global ministries. "Fostering discipleship and responding to God's mission is a significant theme among these innovative and inspiring frontier ministries."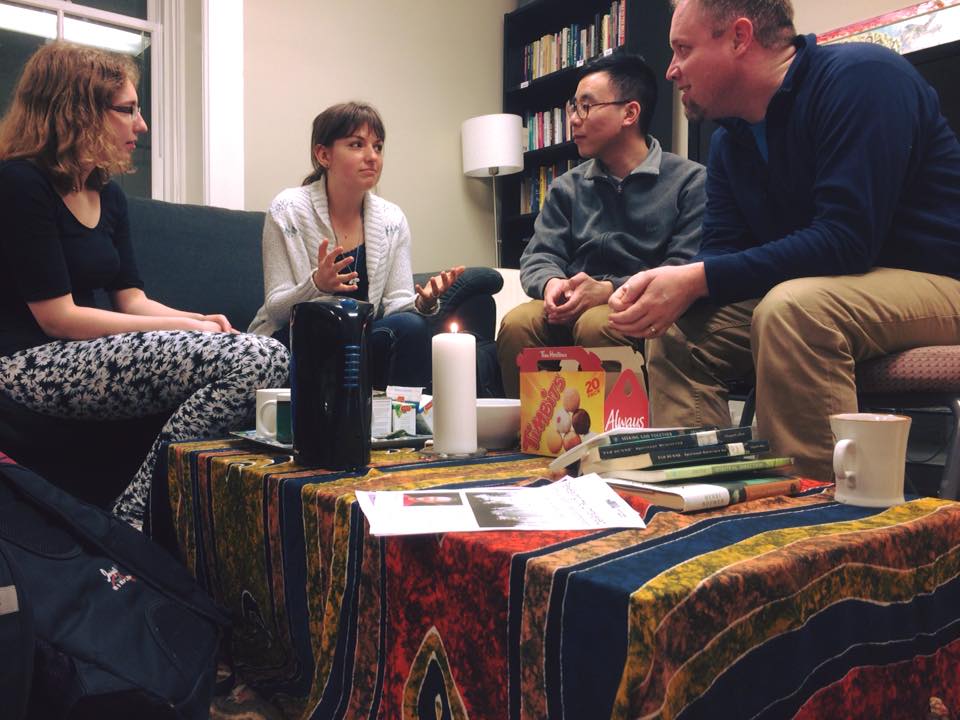 Chaplain Andrew Hyde meets with students at the University of Guelph.