Susan Bell Consecrated as Coadjutor Bishop
"Go into all the world" chosen as her episcopal motto
Posted May 5, 2018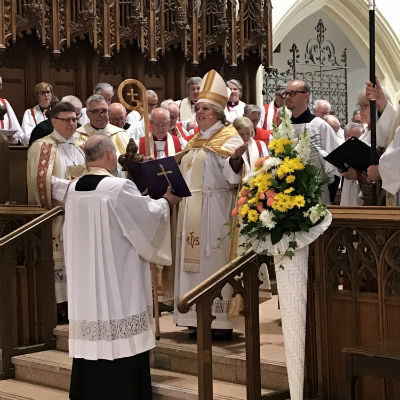 With the sun shining brightly through the stained-glass windows of Christ's Church Cathedral in Hamilton, Susan Jennifer Anne Bell became the first woman ordained to serve as coadjutor bishop of the diocese on Saturday, May 5.
"I am grateful to God for leading me back home to minister with and among you," wrote Bishop Susan Bell in a message to the people of the diocese that was included in the service bulletin. "My heart overflows with gratitude for the support and kindness of so many people along my own journey of faith and ministry."
The sweet aroma of Indigenous sacred medicines wafted around the Cathedral as more than 600 people gathered to pray and take part in the historic ordination. The service was also live streamed on Facebook and watched by peopled from across the diocese and around the Anglican Communion.
"Go to the world and offer the light of Christ to all we meet," said Bishop Bell in brief remarks during the service." Known as a strategic, mission-centred leader, Bishop Bell says she intends to listen and watch for where God is at work in the church and the world and then to come alongside that work.
Speaking to the people of the diocese, Bishop Linda Nicholls of the Diocese of Huron said, "Susan will be your shepherd and teacher... and will need your constant prayers." She added, "together you will continue to be and proclaim the good news in this part of the Anglican Church of Canada."
Archbishop Colin Johnson, metropolitan of the Ecclesiastical Province of Ontario, presided and acted as the chief consecrator during the two-hour service. More than a dozen bishops, including the Primate of the Anglican Church of Canada, Archbishop Fred Hiltz, were in attendance.
Bishop Michael Bird celebrated the Eucharist at the high altar of the Cathedral with the new coadjutor bishop and the metropolitan flanking him. Bishop Bell offered a particular note of gratitude to Bishop Bird for "his guidance and generosity in sharing his love of this diocese with me."
Throughout the service, the Paschal candle burned in honour of the life and ministry of Canon Robert Fead, who tragically died earlier in the week.
The consecration concluded with a rousing rendition of the hymn, "Go to the World" which mirrored the new bishop's episcopal motto: "Go into all the world and preach the gospel to all creation (Mark 16:15)."
The clergy and people of the diocese elected Bishop Bell on the fifth ballot of an episcopal election that took place on March 3. After a brief transition period, Bishop Bell will succeed Bishop Bird as diocesan bishop on June 1, 2018, becoming the twelfth Bishop of Niagara and first woman hold this office.