Bishop's 2023 Lenten Books Announced
Posted October 18, 2022
Bishop's 2023 Lenten Books Announced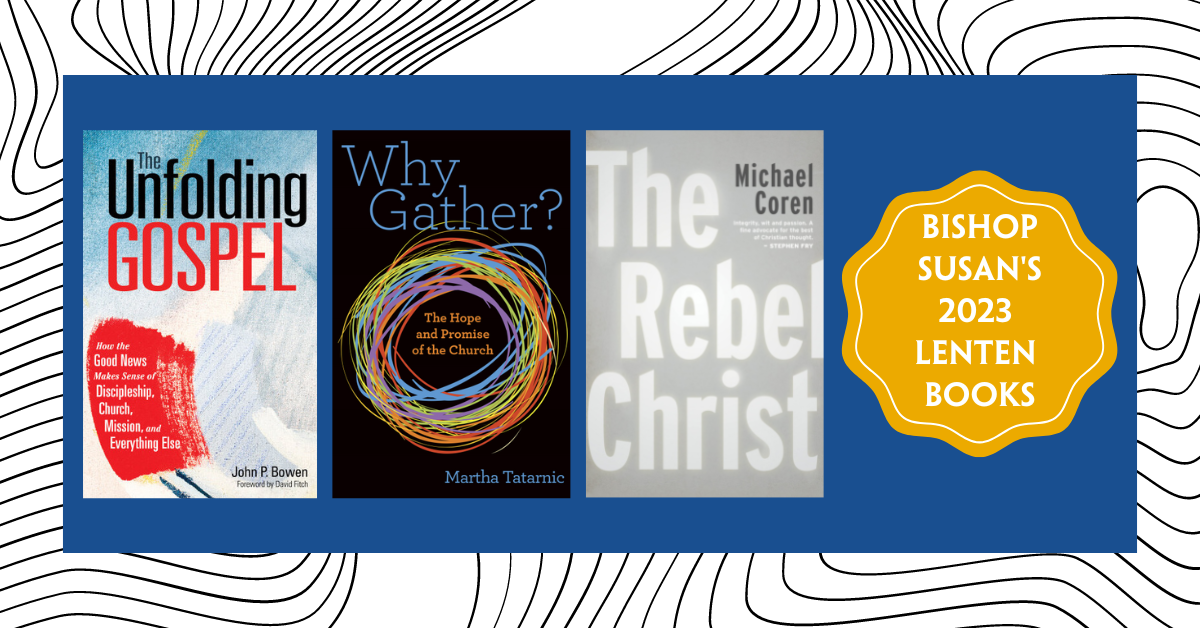 As our diocese continues to live into our call to be missional in all we do, Bishop Susan Bell has chosen three books that encourage readers to examine our lives, churches, and the world to see how God is at work making all things new through Jesus Christ.
Dr. John Bowen's The Unfolding Gospel explores what "the gospel" is and how it informs our understanding of mission, church, culture, and leadership. Bowen provides knowledge and inspiration about how to live and share the gospel in missional ways.
The Reverend Michael Coren's The Rebel Christ asks the question, "What did Jesus say about the pressing issues of his and our day?" Coren invites readers to embrace Jesus as a rebel Christ and demonstrates that Christ did not remain silent in the face of pain and injustice, and reminds us that, to truly follow Him, we need to commit to exposing, condemning, and transforming injustice through love.
The Reverend Canon Martha Tatarnic's Why Gather?, written during the pandemic, recounts stories about God at work and the imperfect and messy communities in which we gather. Tatarnic invites readers to seek out the Kingdom of God that is already at hand and provides the tools and inspiration to recognize, embrace, and celebrate how God is at work in our churches and our lives even in times of struggle.
"I'm delighted to commend three books from three homegrown authors for our Lenten Book Series in 2023," said Bishop Susan Bell. "The wisdom and witness contained in the writings of John, Michael, and Martha will be a blessing to all who turn their pages and will help us be the face and hands of Christ more authentically and more faithfully."
Parishes are encouraged to make plans for studies using these books. Discussion questions to accompany each book will be available on the diocesan website well in advance of Lent. There will be also opportunities to hear from the authors and ask questions during Lent. More details will be available about these opportunities in early 2023.