Remembering HRH The Prince Philip
Anglicans from across Canada give thanks for Prince Philip's life of service
Posted April 10, 2021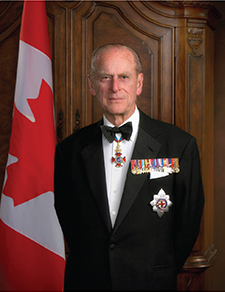 The Primate, Archbishop Linda Nicholls, has sent Her Majesty The Queen a message of condolence on the death of His Royal Highness The Prince Philip, Duke of Edinburgh on April 9. "On behalf of the Anglican Church of Canada I extend our deepest condolences on the death of your beloved husband and consort, Prince Philip, Duke of Edinburgh." Read the full message here.
The Metropolitan of the Ecclesiastical Province of Ontario, Archbishop Anne Germond, has issued this statement on the death The Duke of Edinburgh. "Anglicans in our ecclesiastical province join with people around the world in extending our sympathies at this time of great sorrow." The statement includes an invitation for Anglican cathedrals and churches across the province to ring their bells 99 times on Sunday, April 11 in thanksgiving for The Duke of Edinburgh's life and to offer the prayer prepared by the Primate during worship services (see below).
Bishop Susan Bell joins with the Primate and Metropolitan in extending our deepest sympathy to The Queen and all members of the Royal Family as they mourn the passing of The Duke of Edinburgh. Clergy have been asked to include prayers for His Royal Highness The Duke of Edinburgh during Sunday worship services and to make arrangements for their church bells to toll on Sunday.
Flags on church properties are to be lowered to half-mast until sunset on the day of the funeral.
Canadians are invited to sign and view the online book of condolences, sharing messages of sympathy and paying tribute to His Royal Highness The Duke of Edinburgh.
A Prayer of Thanksgiving for the Life of The Duke of Edinburgh
God of eternal life and love
we give thanks today for the life and witness of Philip, Duke of Edinburgh,
for his service in pursuit of peace as a naval officer,
for his service to the Queen as a wise counsellor and companion,
for his commitment in marriage for over seventy years in witness to mutual respect and love,
for his commitment to nurturing family and guiding with wisdom their growth and development,
for his encouragement of young people around the world to skill development, physical health, adventure,
and service through the Duke of Edinburgh Award,
for his care and advocacy for all of creation
for a life lived selflessly in service to others.
We remember with thanksgiving and commit him into Your keeping this day
in the sure and certain hope of resurrection to eternal life.
May he rest in peace and rise in glory. Amen.