National Aboriginal Day of Prayer Message
Posted June 13, 2017
For almost half a century, Canadian Anglicans have marked the National Aboriginal Day of Prayer on a Sunday close to June 21. We were early adopters of the idea, thanks the advocacy of Archdeacon Andrew Ahenakew of Saskatchewan who brought the matter before a supportive General Synod in 1971. As time went on, the idea morphed to become a national day of aboriginal solidarity and was supported by what is now the Assembly of First Nations. Eventually, in 1996, National Aboriginal Day was officially proclaimed in 1996 by then Governor General Roméo LeBlanc.
Of course, Indigenous peoples have long recognized June 21, the summer solstice, as a sacred day.
We, in the Anglican Church of Canada as well as other faith communities, put aside this special day to celebrate the gifts of Indigenous peoples and give thanks to God who has created the diversities of peoples of the world and gifted Indigenous peoples of Canada with many gifts of wisdom, spirit and vision. In our churches, we celebrate this day connected with the summer solstice, through special events and gatherings that take place across the country celebrating First Nations, Métis and Inuit contributions and accomplishments, cultures, traditions and languages.
How will you, in your community, be celebrating the First Peoples of Canada? It may be through special prayers or liturgies in your church. You may choose to attend an event organized by the local Indigenous community in the area where you live. You may choose to hold an event that focuses on clean drinking water, the 94 Calls to Action arising from the Truth and Reconciliation Commission, or the continuation of Indigenous languages. Or you may search out and join a healing circle or a drum circle, participate in the KAIROS blanket exercise, or read the UN Declaration on the Rights of Indigenous Peoples. There are so many ways we can celebrate and learn together with Indigenous and non-indigenous peoples the gifts we have been given by the Creator and find ways to walk together in peace, love and understanding.
I give you a new commandment, that you love one another. Just as I have loved you, you also should love one another. John 13:34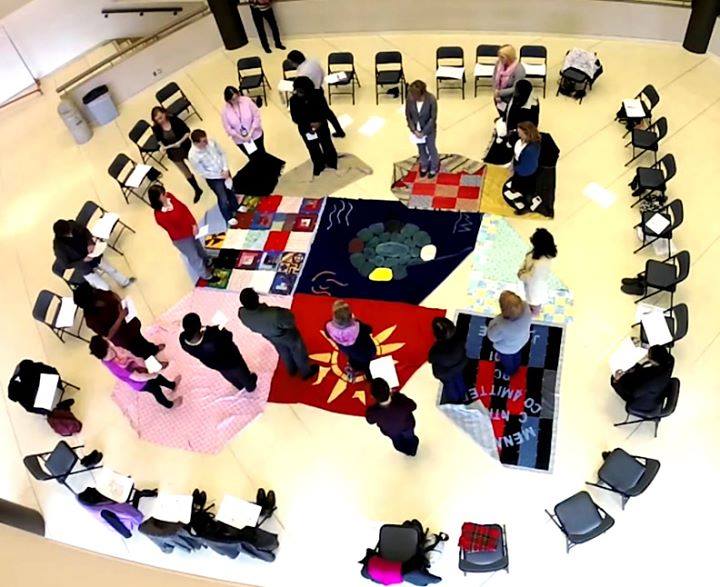 It is my prayer that we, in the Diocese of Niagara, continue to work, study and learn together about our historic journey with the First Peoples of Canada and find even more ways of connecting, sharing and walking together in love. To this end I want to encourage us, as a diocese, to bring the experience of the KAIROS blanket exercise to all our congregations. This is a powerful teaching tool that shares the historic and contemporary relationship between Indigenous and non-Indigenous peoples in Canada. It's often an important first step towards a renewed journey together through truth and reconciliation.
I want to conclude with a prayer entitled 'The Healing of the Nations' by the Very Reverend Stan MacKay, former moderator of the United Church of Canada and a member of the Fisher River Cree Nation:
We come with thanksgiving for our very breath, the warmth of sun, and the sustaining waters for life all around us: the plants, soft grasses, and sheltering trees for the ones that crawl, those that swim, and those that fly for the four-legged and the two-legged all our relations!
We celebrate the diversity in creation as reflected in the four winds from the four directions. We especially honour the many peoples with their many gifts for understanding our shared life on the earth.
We strive to live out the seven sacred teachings: Respect, Love, Honesty, Courage, Humility, Wisdom and Truth.
These teachings enable us to live in harmony with ourselves, with our neighbours, and all the created earth. Amen.
May this be our prayer today and always, as we mark and celebrate National Aboriginal Day of Prayer.
The Venerable Valerie Kerr
Archdeacon of Truth, Reconciliation and Indigenous Ministry
To arrange for a KAIROS Blanket Exercise to be held in your parish, please contact indigenous@niagaraanglican.ca