Film Screening Fosters Truth and Reconciliation
Posted June 20, 2019
In advance of National Indigenous Peoples' Day, Bishop Susan Bell hosted a free public screening of the film Doctrine of Discovery: Stolen Lands, Strong Hearts at Christ's Church Cathedral in Hamilton, on ancestral Anishinaabe and Haudenosaunee Confederacy land.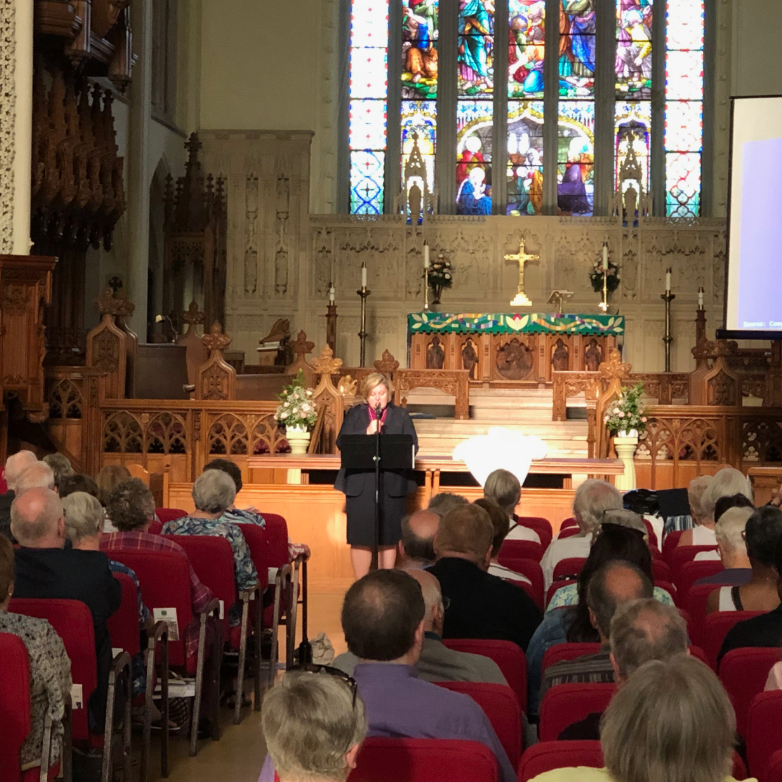 "This documentary is a very important piece of work for all to see as it shines a light on the colonialism of our past here in Canada," said Archdeacon Valerie Kerr, the evening's emcee. "The facts speak for themselves, however we need to learn these facts so we can stand up to the wrongs that have been done."
The film's focus is on a doctrine enacted over 500 years ago that asserted lands being discovered by European explorers were "empty" and millions of Indigenous inhabitants were "non-human." This decision and its modern manifestations continue to impact Indigenous peoples today.
The Anglican Church of Canada formally repudiated the doctrine of discovery in 2010.
"This compelling work helps us hear some of the painful truth of Canada's colonial roots," said Bishop Bell, who said she believes every Canadian should watch the approximately one-hour film. "We must acknowledge our part in our fractured history as we live and work for a future where justice, peacemaking, and reconciliation flourish."
Following the screening, which saw nearly 200 people in attendance, Bishop Mark MacDonald, the Anglican Church of Canada's first National Indigenous Anglican Bishop spoke to the audience and took several questions as well.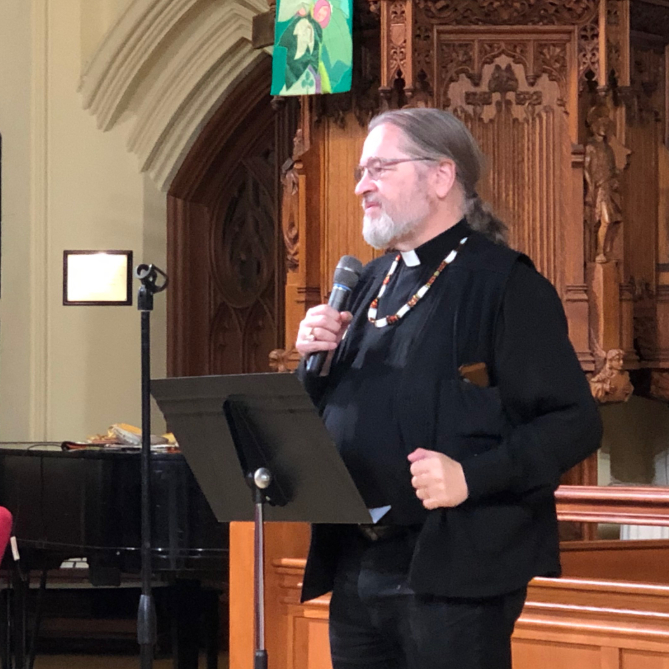 "This film points us in a direction where we can wake up and begin to understand who we are and where we are going to be." Bishop MacDonald said it has gone viral, striking a chord with many people across Canada, adding that it's "part of a larger spiritual movement to redefine Canadian future in a positive way."
While the film is available online, Deirdre Pike, program consultant for social justice and outreach, thinks viewing the film with others provides an opportunity for discussion and discernment. "It's a powerful experience when we begin to come to terms with our settler identity, so it helps to unpack that in community."
The producers of the film hope it will help foster a robust commitment to the work of reconciliation, providing education and insight into the racist foundations of many property and other laws still in existence today.
This film is one of the responses flowing from the Primate's Commission on Discovery, Reconciliation and Justice, established as part of the response of the Anglican Church of Canada to the United Nations Declaration on the Rights of Indigenous People.
"If this [film] begins to touch our minds and hearts… we will see great things," said Bishop MacDonald.
https://www.anglican.ca/primate/tfc/drj/doctrineofdiscovery/