Bishop Lends Her Voice in Support of Vaccines
Campaign seeks to bolster vaccination efforts
Posted September 24, 2021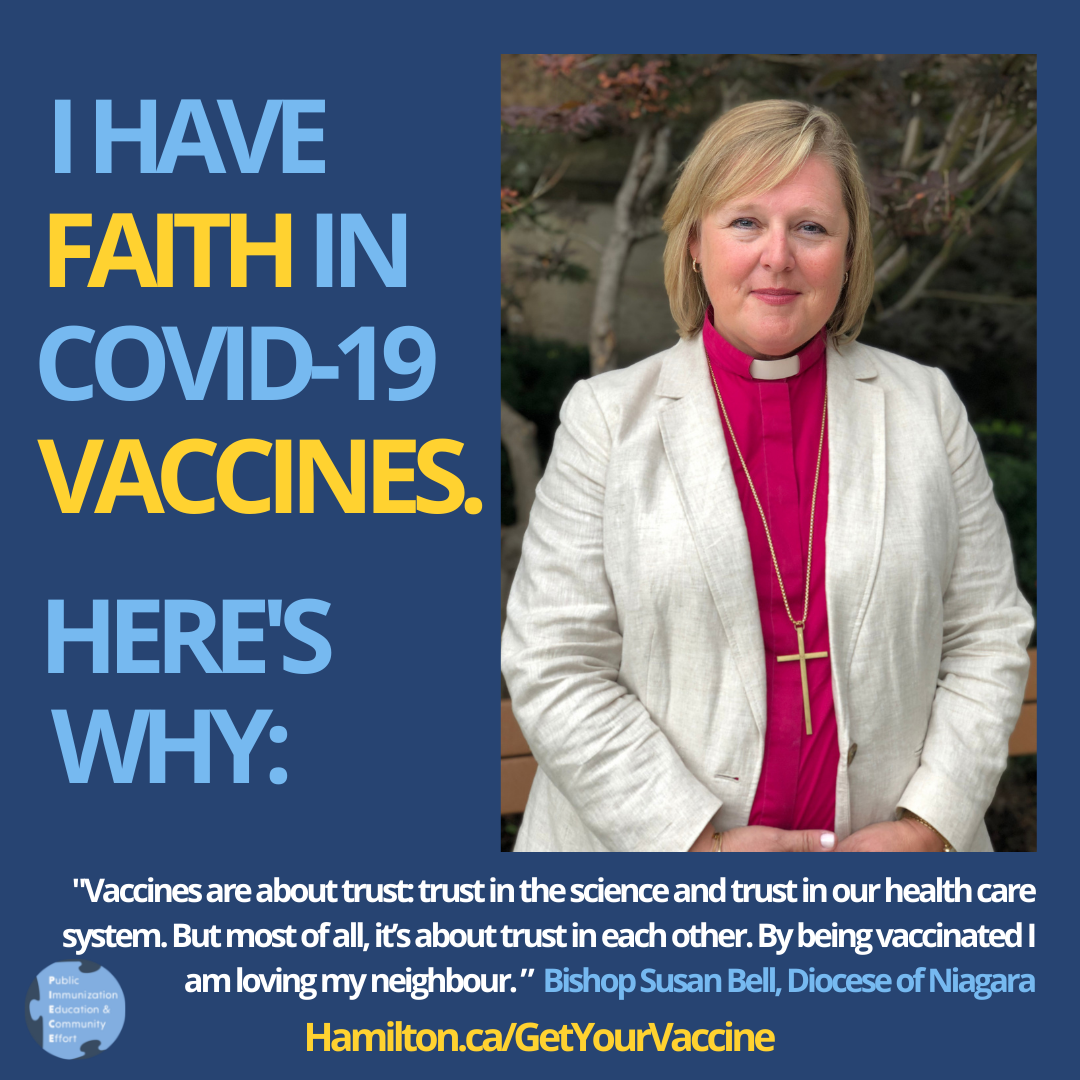 Bishop Susan Bell is part of a new effort by faith leaders aimed at getting more people to roll up their sleeves and get vaccinated.
"Putting others' welfare ahead of ourselves is core to who we are as Christians," said Bishop Bell in an interview with the Hamilton Spectator. "If faith leaders can be credible sources of correct information about vaccines, that is good for our culture and society, and it builds trust within our churches but also outside of them."
The Faith in the Vaccine campaign aims to encourage people to get vaccinated. Clergy are invited to participate too by submitting a photo of themselves along with the answer to the question, Why do you have faith in COVID-19 vaccines?" A poster, Instagram, or Facebook digital graphic will be created and emailed back to clergy to share on social media using the hashtag, #FaithInCOVID-19Vaccines.
To date, 75% of all Ontarians have received one dose of the COVID-19 vaccine, and 70% are fully vaccinated. According to data from the Ontario COVID-19 Science Advisory Table, unvaccinated people have a 6-fold higher risk of symptomatic COVID-19 disease, a 30-fold higher risk of being in the hospital, and 48-fold higher risk of being in the ICU compared to those who are fully vaccinated.
With a fourth wave of the pandemic now underway, the Bishop has also put in place a mandatory COVID-19 Vaccination Policy for people serving in particular ministry and employment roles. This new measure builds on the current protections in place, all of which seek to reduce the potential for the transmission of COVID-19 in our buildings and other ministry settings.
To continue serving, people in designated ministry and employment positions must have received their first dose of vaccine by September 30, and their second dose no later than October 31.
All worshippers are also strongly encouraged to be vaccinated, living into Jesus' call to disciples to love their neighbours and care for the most vulnerable in society. While not required to attend worship, proof of vaccination is now mandated for anyone attending a meeting or event on church property, with the exception of activities which provide social services, such as AA meetings and meal programs.
To learn more about Canada's COVID-19 vaccines, visit the Public Health Agency of Canada.