Wardens, Treasurers & Clergy Workshops 2.0
Location: ON
Date: October 24, 2020 - 9:30am to 11:00am
Wardens, Treasurers & Clergy Workshops 2.0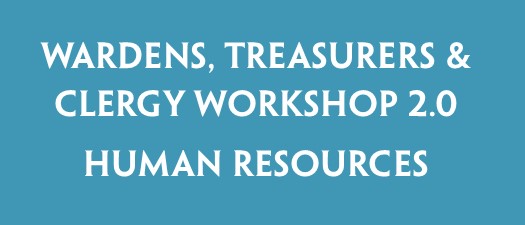 This workshop, focusing on human resource matters and taking place on Saturday, October 24 from 9:30-11:00am, is the next in a series of workshops being held to complement the basic workshop offered to parish leaders each spring. This workshop will be hosted by Canon Terry DeForest.
Participants will receive and review the latest (recently updated) templates for offers of employment, and to discuss a range of Human Resources practices and protocols which guide case by case situations related to hiring, accommodation for returns to work, sick and other job protected leaves, layoffs, increases and reductions of hours, terminations, etc. Terry will also take time to answer questions from participants.
Click here to register for this workshop through Eventbrite.