Safe Church Training
Location: ON
Date: November 12, 2021 - 9:00am to 2:00pm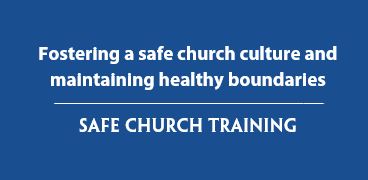 Our insurer requires those in ministry leadership (clergy including active honorary assistants; child, youth, and family ministry employees; paid parish musicians; etc.) to attend. All people in high risk ministries should attend, and be present for the entire day. Please make your participation a priority.
Attendance at this event will further your awareness of what it means to foster a safe church culture and maintain healthy boundaries, will heighten your sensitivity, and add to your skill set. As well as having a moral obligation to those we serve, we are under legal obligation to our insurers to provide this kind of education for ministry providers.
This Safe Church training on Friday, November 12, 2021, via Zoom videoconferencing, is essential for employees and volunteers in high risk ministry. We are piloting the online training module produced by Ecclesiastical Insurance and their partner Vector Solutions to complement the in-person training session. This training will be sent to registrants through Vector Solutions no later than two weeks prior to the Zoom and take less than one hour of time. The use of this online training has enabled us to shorten the in-person training session.
The Zoom waiting room will be open from 8:45am and training program from 9:00am to 2:00pm. In order to receive the certificate of completion, and thus comply with the requirement, participants must be present for the entire training session.
Click here to register. Registration deadline: November 1, 2021
As you are aware, the Diocese of Niagara has a Policy on Sexual Misconduct: Sexual Harassment, Exploitation and Assault. This document is available on the website at http://niagaraanglican.ca/synod/policies. Please make yourself familiar with the policy as you will be required to sign the Sexual Misconduct Policy Acknowledgement Form on the day you attend.