Creation Care That Counts
Location: ON
Date: October 14, 2020 - 7:00pm to 8:30pm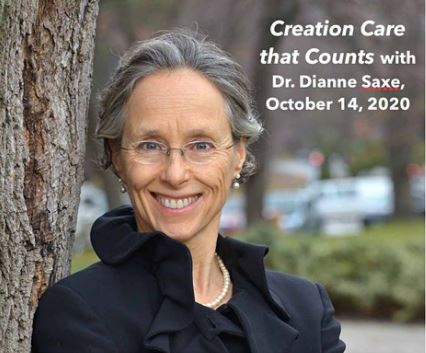 All are welcome to join Dr. Dianne Saxe on Wednesday, October 14 from 7:00-8:30pm for an evening of exploring the climate crisis as a moral issue, our own climate pollution, and the need for moral leadership required in our faith communities to make a different in practice and advocacy.
Dr. Saxe is one of Canada's most respected environmental and climate lawyers, with 40+ years' unparalleled experience writing, interpreting, and litigating Ontario's energy and environmental laws. Ontario's Environmental Commissioner from 2015-2019, she reported to the Legislature on the province's environmental, energy, and climate performance.
Click here to register through Eventbrite for this event presented by Climate Justice Niagara.
This event will take place through Zoom; registrants will recevie a link to join the event a day in advance. The Zoom waiting room will be open by 6:50pm; participants are asked to join a few minutes early so that we can start promptly at 7:00pm.
Click here for a poster to share.